I emailed the nice folks at Labrada hoping I could get my hands on a free sample of their newest pre-workout supplement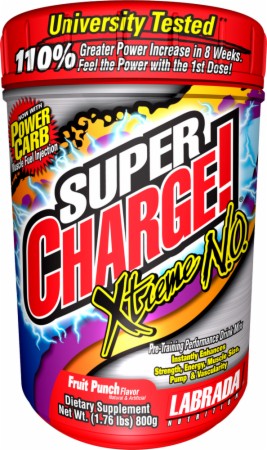 SuperCharge! Extreme N.O. They emailed me back saying that they have samples on their page for a minimal cost, but since they don't have a sample pack of SuperCharge, they will ship me one. About a week later I received one free sample of SuperCharge and one free sample of Power Carb.
Facts
Per 320 gram tub of SuperCharge, you get:
20 servings
< 1 g sugar
SuperCharge Performance blend
Phase 1- Energy/ Hemo-Dilation Complex
Phase 2- Strength & Endurance Complex
Phase 3- Post-Workout Recovery ComplexTaste
Taste
I tried the Blue Raspberry, and I have to say this was the best tasting pre-workout supplement I've ever tried. Labrada nailed it here. I haven't had Kool-Aid in a while, but I'd imagine the Blue Raspberry flavor tastes just like this. Or a Slurpee from 7-Eleven. SuperCharge mixes quite easily as well.
Effectiveness
Here is what SuperCharge promises to deliver:
Increases nitric oxide levels in the body: Dilates arteries resulting in increased blood flow to muscles. Increased blood supply floods muscles with oxygen and nutrient-rich blood for greater muscle pumps and performance.
Enhances mental focus during exercise: Increases mental focus.
Delays fatigue: Allows you to exercise longer without fatigue.
Increases strength: Increases muscular power.
Increases muscle volume and lean body mass
Jump starts recovery: Puts recovery on hyper-speed so you get stronger, faster!
According to the University of Kansas, in an 8 week study done in 2010 where 30 males were put in an effective weight training program, the SuperCharge users had 100% more power, 82% more focus and put out 39% more reps than the control group.
I had high expectations for SuperCharge. Overall, it was a mixed bag. While I felt I had a good amount of strength in the gym and was able to pump out more reps, I just didn't have the mental focus, energy or endurance that I was expecting–that I normally have when I don't take a pre-workout supplement. I definitely moved a lot of weight, and that's a big plus, but I didn't feel that added energy that I have felt from other pre-workout supplements, like Jack3d.
As far as recovery was concerned, after a tough chest workout, I had almost no soreness.
Value
With an 8.4 rating on Bodybuilding.com and a price of only $19.99 for a 320 gram tub, it's one of the lowest priced pre-workout supplements available. I suggest you try SuperCharge.
What about you guys: Have you tried SuperCharge? If so, what did you think?
About Me
See that guy to the left? Thats me, Xander. I created this website to share how I gained over 30 lbs by weight lifting, eating and using the right nutritional supplements. Here you will find honest supplement reviews, weight-gaining tips, workout routines, free PDFs and the best hardgainer workout programs on the internet.
No Nonsense Muscle Building
Tired of busting your butt in the gym with no results? If you're a hardgainer like me, then you need a program specifically designed for you. I used this program to gain over 30 lbs in my hardgainer transformation!
From meal plans to workout programs that get progressively more challenging, Vince lays out everything in an easy-to-read manner. Get big for the summer, show up your friends and impress the ladies!
Your 6 Pack Quest
No Nonsense 6 Pack Quest provides a workout and dieting program designed to burn the fat off your stomach and reveal those 6 pack abs. You'll see the best ab workouts and secrets designed to give you that washboard stomach.
Friends
Recent Posts
Muscle Gaining Secrets
Tags
Help keep my website running!
Any amount is appreciated, thanks!